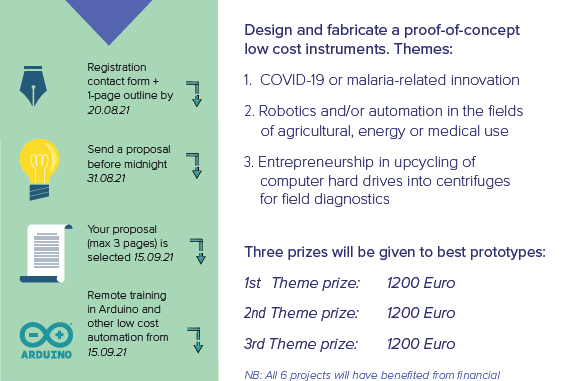 The 2020 Pan-African competition in low-cost technologies served to identify and develop next generation of young scientists, leaders, and entrepreneurs in Africa. It was open to all countries of Africa.
The organizers
UK: Stoyan Smoukov, Kaspar Althoefer, London, UK
Africa: African Spectral Imaging Network (AFSIN, http://afsinnet.net), Ivory Coast
Objectives
Design and fabricate a proof-of-concept low cost instruments using a microcontroller in these themes:
1. COVID-19 or malaria-related innovation
2. Robotics and/or automation in the fields of agricultural, energy, or medical use
3. Entrepreneurship in upcycling of computer hard drives into centrifuges for field diagnostics
Develop technical and entrepreneurial innovation capacities of young scientists in African countries.