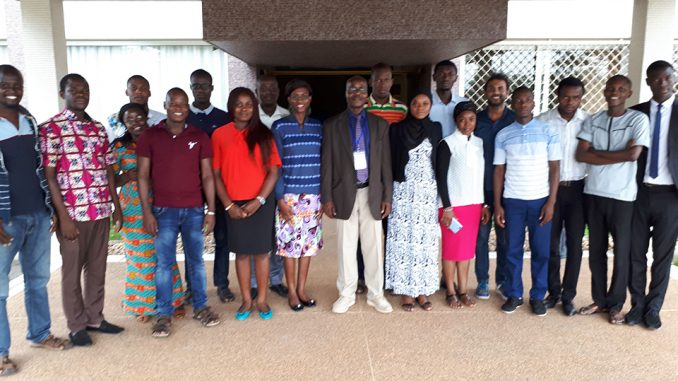 New Nodes and coordinators:
TOGO: Prof. Dzagli Milohum Mikesokpo
CAMEROON: Prof. Alain Tiedeu
Doctoral Program
List of the students involved in the program:
SENEGAL
Kebe Moustapha
Sarr Abdou
BURKINA
OUEDRAOGO Tongonmanegde Léonard
BADO Fabrice
TOGO
AFOUNDJI
AMOUZOUVI
CAMEROON
MAKEM
TAMPA
GHANA
ATIEGBO Andrew
Shemmira Yunus
MALI
COULIBALY Nana
SOW Aminata
COTE D'IVOIRE
DION SYLVERE
GBOGBO ADOLPHE
KENYA
MUTUNGA Samson
Marius Gnetto
Doctoral Program Goal:
Overall objective(impact) and relevance of the activity:
AFSIN network activity for the period from 2018 to 2020 will be devoted to strengthening capacities in terms of human resources. To achieve this goal, activities will be organized around one main priority and program: training and mobility of the young scientists of the network in order to sustain the research activities in each node and prepare the upcoming generation.
Specific objectives for 2018-2020:
AFSIN will strengthen his human resource capacities by establishing a Doctoral program in Photonics and Spectroscopy followed by a doctoral training program.
Expected outcomes of the research activity:
Scientific Results:
AFSIN network expects at the end of this training process, sixteen (16) young experts in optics, spectroscopy and photonics leading the research activities in each country, with two (2) scientists per country.
Graduations:
Sixteen (16) PhD students in Optics, Spectroscopy and Photonics.
First session of the program was held in Yamoussoukro from May 23 to July 31, 2018.
Courses:
Electronic, circuit, ARDUINO
Remote sensing spectroscopy
Optical Spectroscopy
Diffuse reflectance spectroscopy
Multivariate analysis
Image processing
3D printing
Optical components
Low cost high physics and appropriate solutions to real life for developing countries